Skip to Main Content
It looks like you're using Internet Explorer 11 or older. This website works best with modern browsers such as the latest versions of Chrome, Firefox, Safari, and Edge. If you continue with this browser, you may see unexpected results.
This page offers a selection of popular true crime podcasts as well as resources on where to find more - there really is something for everyone!
My Favorite Murder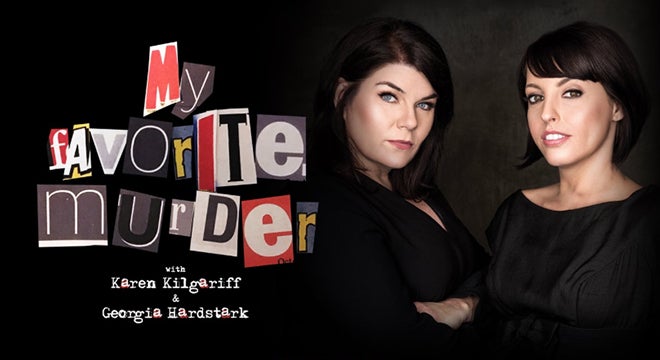 My Favorite Murder is a true crime comedy podcast on which Karen Kilgariff and Georgia Hardstark each research and then retell a true crime or murder story. Their show has become hugely popular – especially among women – and episodes often open with over thirty minutes of discussion and banter between the hosts, who discuss issues such as mental health and advocate for women's empowerment and personal safety. Their approach to storytelling is very conversational, though, and they emphasize that their research is not always in-depth. Thus, this podcast would be extremely useful and enjoyable to those who are looking for an entertaining, less thoroughly researched female-led true crime podcast. Click here or on the image above to be redirected to the official website.
Casefile
Casefile is an episodic Australian podcast that recounts the details of both solved and cold criminal cases. Unlike My Favorite Murder, it is scripted and extremely well-researched, incorporating original documents from police and mass media at the time of the crime. Casefile is also extremely popular and received the Best of 2016 award from iTunes. It would be useful to those looking for an information-focused, yet still entertaining true crime podcast in a consistent narrative format. Click here or on the image above to be redirected to the official website.
Want more?
The 35 Best True Crime Podcasts

WhatPods list of the best true crime podcasts is primarily useful to those who are looking for new listening material. It provides 35 titles, each with a short description of the podcast's style and content. This list differs from the many other available, however, in that it is continuously updated. It also has a more specific focus on podcasts with an episodic format – i.e. a different crime is discussed each episode. This list would be a good resource for listeners who are looking for an up-to-date account of short-form true crime podcasts.