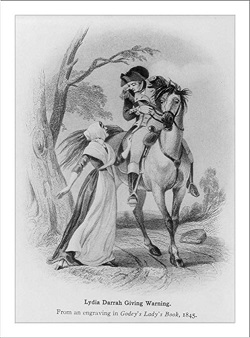 Lydia Darrah Gving Warning [engraving] (1845). Retrieved from http://www.ushistory.org/people/darragh.htm.
---
Lydia Darragh was living in Philadelphia, Pennsylvania in the fall of 1777 when the city fell under British control. Members of the Quaker faith, Lydia and her husband were bound by their religious beliefs not to take up arms, but that did not stop them from contributing to the war effort. When their home was taken over by Major John Andre, the head of British intelligence, Lydia seized the opportunity to collect information for Washington.
On the evening of December 1, 1777 British officers ordered the Darragh family upstairs and told them not to come down. Sneaking out of her chambers, Lydia overheard Andre and his men planning a surprise attack against the Continental Army on the evening of December 4. Returning back to her bedroom, she feigned sleep when the officers told her that her house was once again hers. The next day, she set out with an empty flour sack towards Washington's camp, posing as a woman who was out collecting flour for her family. She encountered Elias Boudinot, the commissary of prisoners, and handed him a "dirty old needle book with, various small pockets in it." Within one pocket, Boudinot discovered "a piece of paper rolled up into the form of a pipe shank. On unrolling it, I found information that General Howe was coming out the next morning with 5,000 men, 13 piece of cannon, baggage wagons, and 11 boat on wheels. On comparing this with other information, I found it true and immediately rode post to headquarters." (Elias Boudinot's private journal, ushistory.org). Darragh's actions prepared Washington's forces for the battle at Whitemarsh, and the face off between the two armies resulted in an American victory.
---