Skip to main content
It looks like you're using Internet Explorer 11 or older. This website works best with modern browsers such as the latest versions of Chrome, Firefox, Safari, and Edge. If you continue with this browser, you may see unexpected results.
Overview
This LibGuide should provide students researching "Fast Fashion" an introduction to and launching point for several areas of interest in the topic, including:
Knock-Offs and the Democratization of Fashion
Fast Fashion's Pollution Problem
Fast Fashion's Garment Workers
Effects in the Second-Hand Industry
Alternatives to Fast Fashion
This guide also includes a section offering search tips to further guide students' inquiries.
What is Fast Fashion?
"Fast Fashion" is clothing designed, produced, and marketed for quick and cheap mass-consumption. It is distinguished by its emphasis on trends and its use of the quick-response manufacturing method. The first known usage of the term "fast fashion" was in 1977, though "fast fashion's" dominance in the industry did not become apparent until the 1990s. Fast Fashion can also be disparagingly referred to as "disposable fashion".
Learn More about Fast Fashion's Origin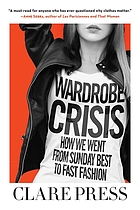 Wardrobe Crisis: How We Went from Sunday Best to Fast Fashion
Author: Clare Press
ISBN: 9781510723429 1510723420
This book by Australian fashion journalist and enthusiast, Clare Press, traces the development of fast fashion and the ethical costs of fast fashion, from sweatshops and polluting materials to overconsumption. She argues for a needed "fashion revolution" and explores conscious ways consumers can buy and enjoy fashion.
Popular Fast Fashion Brands
From Fast Fashion Retailers like Zara.: 1 votes (33.33%)
From department stores like Macy's.: 0 votes (0%)
From locally sourced boutiques.: 0 votes (0%)
From second-hand shops.: 1 votes (33.33%)
From luxury brands like Dior.: 0 votes (0%)
Some combination of the options above.: 1 votes (33.33%)